Details on Dungeon Keeper 1 maps pack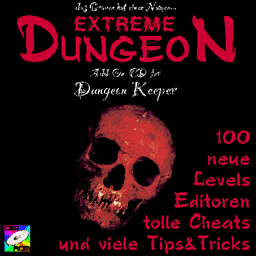 Extreme Dungeon
Name: Extreme Dungeon 1.1.0
Kind: DK Map Pack, Created 19 Sep 1997
Maps: 105 (single play maps for DK)
Copyright: Digital Rom Productions Pg.m.b.H.

A large collection of DK maps, all made using ADiKtEd editor. The pack includes levels of varoius difficulity, but most of them are very easy. It was originally published in Germany, but as there are no text messages, maps are multilingual. The original release included some mapmaking tools (early versions of ADiKtEd and UnDed), trainers and game tips in german language.
Most of the maps included in Extreme Dungeon are very similar. In most of them, there are only two sides - Red and Blue keeper. You will see heroes only rarely. And even if there is a hero room on the map, the forces of good are still minor, and can be treated more like a bonus than like an opponent.
Quality of these levels was originally very poor. Version on this site is fixed a bit, but still, most of the maps are very similar, which makes the gameplay boring after 20-30 of them. The levels which were completely remade have custom names; those which were only fixed are named Extreme xxx.
List of levels included:
Author: Anonymous, Created on 17 Sep 1997
Author: Anonymous, Created on 17 Sep 1997
Author: Anonymous, Created on 17 Sep 1997
Name: Stolen belongs to Thief 1.0.0
Author: Anonymous, Created on 17 Sep 1997
Author: Anonymous, Created on 17 Sep 1997
Name: Good Bad and Undead 0.3.0
Author: Anonymous, Created on 17 Sep 1997
Name: Undead don't die easily 1.0.0
Author: Anonymous, Created on 17 Sep 1997
Author: Anonymous, Created on 17 Sep 1997
Name: Vanquish the truth 1.0.0
Author: Anonymous, Created on 17 Sep 1997
Name: Four Regions Two Masters 1.0.0
Author: Anonymous, Created on 17 Sep 1997
Name: Scavenging respect 1.0.0
Author: Anonymous, Created on 17 Sep 1997
Author: Anonymous, Created on 17 Sep 1997
Author: Anonymous, Created on 17 Sep 1997
Name: Power of Spellbook 1.0.0
Author: Anonymous, Created on 17 Sep 1997
Author: Anonymous, Created on 17 Sep 1997
Name: Prepare and strike 1.0.0
Author: Anonymous, Created on 17 Sep 1997
Author: Anonymous, Created on 17 Sep 1997
Author: Anonymous, Created on 17 Sep 1997
Author: Anonymous, Created on 17 Sep 1997
Author: Anonymous, Created on 17 Sep 1997
Author: Anonymous, Created on 17 Sep 1997
Author: Anonymous, Created on 17 Sep 1997
Author: Anonymous, Created on 17 Sep 1997
Author: Anonymous, Created on 17 Sep 1997
Author: Anonymous, Created on 17 Sep 1997
Author: Anonymous, Created on 17 Sep 1997
Author: Anonymous, Created on 17 Sep 1997
Author: Anonymous, Created on 17 Sep 1997
Author: Anonymous, Created on 17 Sep 1997
Author: Anonymous, Created on 17 Sep 1997
Author: Anonymous, Created on 16 Sep 1997
Author: Anonymous, Created on 16 Sep 1997
Author: Anonymous, Created on 17 Sep 1997
Author: Anonymous, Created on 17 Sep 1997
Author: Anonymous, Created on 17 Sep 1997
Author: Anonymous, Created on 17 Sep 1997
Author: Anonymous, Created on 17 Sep 1997
Author: Anonymous, Created on 17 Sep 1997
Author: Anonymous, Created on 17 Sep 1997
Author: Anonymous, Created on 17 Sep 1997
Author: Anonymous, Created on 17 Sep 1997
Author: Anonymous, Created on 17 Sep 1997
Author: Anonymous, Created on 17 Sep 1997
Author: Anonymous, Created on 17 Sep 1997
Author: Anonymous, Created on 17 Sep 1997
Author: Anonymous, Created on 17 Sep 1997
Author: Anonymous, Created on 17 Sep 1997
Author: Anonymous, Created on 17 Sep 1997
Author: Anonymous, Created on 17 Sep 1997
Author: Anonymous, Created on 17 Sep 1997
Author: Anonymous, Created on 17 Sep 1997
Author: Anonymous, Created on 17 Sep 1997
Author: Anonymous, Created on 17 Sep 1997
Author: Anonymous, Created on 17 Sep 1997
Author: Anonymous, Created on 17 Sep 1997
Author: Anonymous, Created on 17 Sep 1997
Author: Anonymous, Created on 17 Sep 1997
Author: Anonymous, Created on 18 Sep 1997
Author: Anonymous, Created on 18 Sep 1997
Author: Anonymous, Created on 18 Sep 1997
Author: Anonymous, Created on 18 Sep 1997
Author: Anonymous, Created on 18 Sep 1997
Author: Anonymous, Created on 18 Sep 1997
Author: Anonymous, Created on 18 Sep 1997
Author: Anonymous, Created on 18 Sep 1997
Author: Anonymous, Created on 18 Sep 1997
Author: Anonymous, Created on 18 Sep 1997
Author: Anonymous, Created on 18 Sep 1997
Author: Anonymous, Created on 18 Sep 1997
Author: Anonymous, Created on 18 Sep 1997
Author: Anonymous, Created on 18 Sep 1997
Author: Anonymous, Created on 18 Sep 1997
Author: Anonymous, Created on 18 Sep 1997
Author: Anonymous, Created on 18 Sep 1997
Author: Anonymous, Created on 18 Sep 1997
Author: Anonymous, Created on 18 Sep 1997
Author: Anonymous, Created on 18 Sep 1997
Author: Anonymous, Created on 18 Sep 1997
Author: Anonymous, Created on 18 Sep 1997
Author: Anonymous, Created on 18 Sep 1997
Author: Anonymous, Created on 18 Sep 1997
Author: Anonymous, Created on 18 Sep 1997
Author: Anonymous, Created on 18 Sep 1997
Author: Anonymous, Created on 18 Sep 1997
Author: Anonymous, Created on 18 Sep 1997
Author: Anonymous, Created on 18 Sep 1997
Author: Anonymous, Created on 18 Sep 1997
Author: Anonymous, Created on 18 Sep 1997
Author: Anonymous, Created on 18 Sep 1997
Author: Anonymous, Created on 18 Sep 1997
Author: Anonymous, Created on 18 Sep 1997
Author: Anonymous, Created on 18 Sep 1997
Author: Anonymous, Created on 19 Sep 1997
Author: Anonymous, Created on 19 Sep 1997
Author: Anonymous, Created on 19 Sep 1997
Author: Anonymous, Created on 19 Sep 1997
Author: Anonymous, Created on 19 Sep 1997
Author: Anonymous, Created on 19 Sep 1997
Author: Anonymous, Created on 19 Sep 1997
Author: Anonymous, Created on 19 Sep 1997
Author: Anonymous, Created on 19 Sep 1997
Author: Anonymous, Created on 19 Sep 1997
Author: Anonymous, Created on 19 Sep 1997
Author: Anonymous, Created on 19 Sep 1997
Author: Anonymous, Created on 19 Sep 1997
Maps in database: 105
---